Our family is proud to grow fresh fruit and create fine wines for you.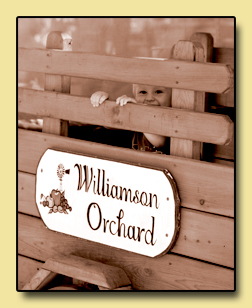 Hours of Operation
The fruitstand typically opens the last week of June and stays open through Thanksgiving or until we sell out of fruit. Feel free to call about product availability. Keep in mind Mother Nature is the one in charge and we pick by her schedule. The wine room follows the fruitstand hours but stays open into the winter months with reduced hours. From December - June we recommend calling ahead for wine tasting during the week but our Friday & Sunday hours are very consistent.
Fruitstand Closed. U-Pick Cherries starting June 17th.
U-pick hours will be Friday, Saturday, and Sunday, 12 noon to 5 p.m. while supplies last.
Tasting Room Schedule
December - June
Friday - Sunday:
12 pm to 5 pm
Monday - Thursday:
By appointment only. Call 208-459-7333.
Starting July 2016
Wednesday - Sunday:
12 pm to 5 pm
Monday & Tuesday:
By appointment only. Call 208-459-7333.
SAMPLE 5 WINES FOR $5.00
Purchase 2 or more bottles and the tasting fee will be waived. Tasting fee does not apply to Wine Club Members. Groups of 10+ people please call for reservations (208) 459-7333.
NO PETS PLEASE
We appreciate pets of all shapes and sizes but, please, do not bring your dogs, cats, birds, etc. into the fruitstand or tasting room.
Contact Information & Map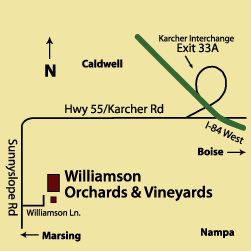 Williamson Orchards & Vineyards
19692 Williamson Ln
Caldwell, ID 83607
Phone: (208) 459-7333
Fax: (208) 454-8746
Orchard Email: fruit@willorch.com
Vineyard Email: wine@willorch.com

Directions
Take I-84 west heading towards Nampa/Caldwell. Get off the interstate at the Karcher Interchange, Exit 33A. This will direct you onto Karcher Rd/Hwy 55. Look for signs for Marsing to make sure you are in the correct lane. Follow Hwy 55 for approximately 15 miles and look for our sign on the left hand side of the road. Turn left on Williamson Ln. The fruit stand and the winery are at the front of the packing shed and the house.