Our family is proud to grow fresh fruit and create fine wines for you.
Events at Williamson's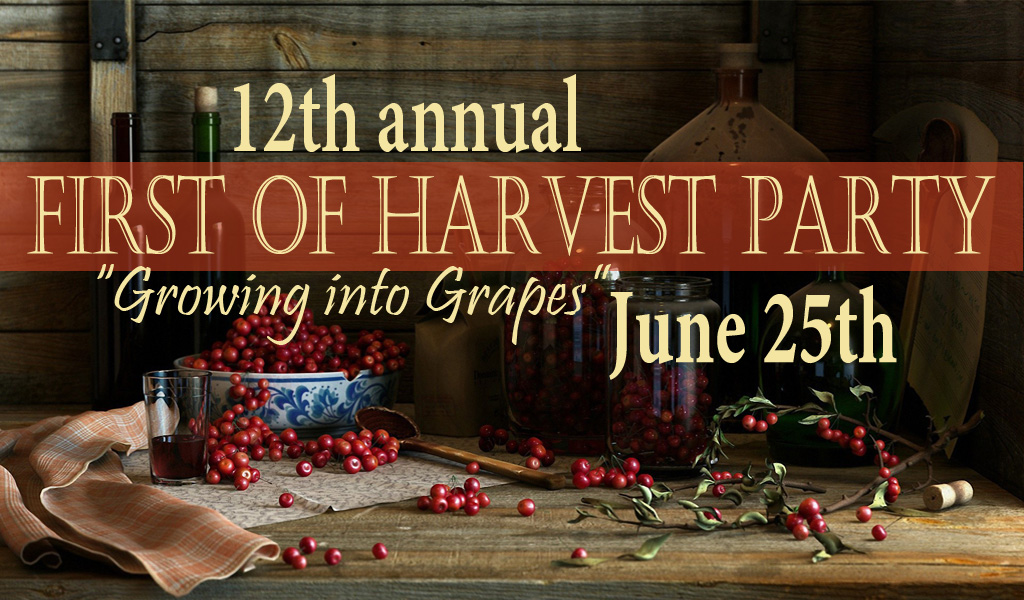 Twelfth Annual
First of Harvest Party
Saturday - June 25th, 2016

12 PM to 5 PM
We're celebrating the start of another cherry harvest and the beginning of some new adventures at Williamson's. Join us for a fun afternoon and to learn more about all the exciting new changes here at the farm. Stay for barrel tasting and new wine releases. Show us what you've got with our cork spitting contest - you could win some fabulous fruit and wine prizes. Sample our fresh, juicy cherries and, weather permitting, venture out into the orchards to pick your own! Don't miss out on our 20% off case sale! This year we will be featuring local artists and vendors! Best of all no admission fee!
Other Events
IDAHO WINE MONTH
The entire month of June!
In May of 2009 Governor Butch Otter declared June Idaho Wine Month to encourage local consumers to drink local!! Look to local restaurants, retail stores, and wine shops to offer specials during the month of June. Don't miss some of the great wine events and specials offered by wineries. But most importantly make sure you celebrate Idaho Wine Month by toasting to life with a delicious glass of Idaho wine!
Boise Farmers Market
Saturday, June 4, 2016, 9 a.m - 1 p.m.
Located in downtown Boise on 10th & Front St.
Williamson Orchards & Vineyards will be taking part in this lively farmers market again this year. Join us for some wine tasting, great local vendors, and a fun Saturday morning. Our wine can be purchased by the bottle. Take home some wine for dinner after you've put together your meal with all the local fruits, veggies & meats.
Savor Idaho
Sunday - June 12th, 2016 from 2 to 6PM
Held at the Idaho Botanical Gardens
Located at 2355 Old Penitentiary Rd, Boise, ID
Idaho's premier wine event will take place on the picturesque grounds of the Idaho Botanical Gardens. This is a unique opportunity for consumers to savor the best Idaho has to offer in food and wine. Over 900 guests will be greeted with a commemorative wine glass to have in hand as they taste and sip their way through Idaho's best.
Paradies Shop Wine Tasting
Friday, June 17th, 2016 from 11:30 AM to 3 PM
Located in the Paradies Shops in the Boise Airport
We are very excited to get our wine into the Paradies Shops in the Boise Airport. Now you can grab a bottle to take to your friends and family and not have to hassle with getting the wine through security because it's already in the airport! If you happen to be flying in or out of Boise on the 17th please come by the Paradies Shops and see us to try a little wine.
Super Summer Craft Market
Presented by Flying M Coffee Garage
Saturday - June 18th, 2016 from 9 AM - 4 PM
Located at Flying M Coffee Garage - 1314 2nd St. South Nampa, ID
Flying M Coffeegarage, in downtown Nampa, will be hosting the 7th annual Super Summer Craft Market with over twenty local makers of handmade, innovative, and original products. Featuring wine by Williamson Vineyards! Join us for the fun and funky craft market!
Idaho Wine Month Tasting
Presented by Whole Foods
Wednesday - June 29th, 2016 from 4 - 7 PM
Located at Whole Foods - 401 S. Broadway Boise, ID
Celebrate Idaho Wine Month by meeting a local wine maker! Williamson Vineyards was very excited to get their wines into Whole Foods this year. Yay! We love that this store really supports local and craft products. Williamson Vineyards will be sampling 4 of their finest. So stop in for a sip of some award winning wines to show you support local too!
First Thursday
Presented by Downtown Boise Association
Thursday - July 7th, 2016 from 5 PM - 9 PM
We will be pouring at R. Grey Gallery
Located at 415 S. 8th St., Boise, ID 83702
Williamson Vineyards is proud to be pouring our wine in this beautiful down town gallery. R. Grey Gallery has been in business for over 28 years in down town Boise. The initial concept of showcasing art, jewelry, and one-of-a-kind pieces has evolved to include art glass, furniture, and jewelry by over 100 artists. R. Grey Gallery prides itself on carrying handcrafted pieces made locally, and across the USA and Canada, by artists and independent designers.