Our family is proud to grow fresh fruit and create fine wines for you.
Events at Williamson's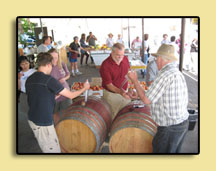 Ninth Annual
First of Harvest Party
Saturday - June 29th, 2013

10 AM to 4 PM
We're celebrating the start of another wonderful harvest! Join us for barrel tasting and new wine releases. Show us what you've got with our cork spitting contest - you could wine some fabulous fruit and wine prizes. Don't miss out on our 40% off case sale! Try some tasty treats from the Brown Shugga Soul Food Truck while you shop for some fresh fruit and local produce. Live music by Wayne White and Brant Phillips! Best of all no admission fee!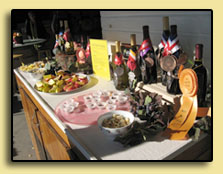 Annual Fall Barrel Tasting
Friday - November 29th, 2013
10 AM to 4 PM
Take a scenic drive into Idaho wine country and join us for Williamson Orchards & Vineyards Fall Barrel Tasting!
Experience the crisp air of fall and the changing colors of the leaves while you sip on our delicious wines poured straight from the barrel. Don't miss our newest vintages of the Reserve Cab or Reserve Petite Sirah. We will be officially releasing a new addition to our wine collection... Lilly White & Harvest Moon Red! Enjoy case and bottle discounts on select wines. Join us for an afternoon of wine, music, cheese, chocolate and fun!
Other Events
First Thursday
Presented by the Downtown Boise Association
Thursday - December 5th, 2013 from 5 PM - 9 PM
We will be pouring at the Lisk Gallery
Located at 403 South 8th Street Boise, ID
We're so happy to be partnered with Lisk Gallery again. This time join us for a book signing - Owyhee Canyonlands: An Outdoor Adventure Guide by Mark William Lisk. Plus check out the group show featuring 20 different small-works artists with 3-5 pieces by each artist. Make the experience even more enjoyable with a delicious glass of Williamson Vineyards wine!
Winemaker's Dinner
Indian Creek Steakhouse
Wednesday - December 11th, 2013 starting at 6:30 PM
Located at 711 Main St. Caldwell, ID
This event is a rare opportunity to enjoy at true taste of Idaho! Indian Creek Steakhouse will be hosting a winemakers dinner feature Williamson's wine! The appetizer and salad will consist of shrimp cocktail paired with our Dry Riesling and a chef's salad paired with our new Lilly White. The main course will be a 12 oz. sirloin steak prepared with a rub of sea salt and cracked black pepper and then grilled over apple wood for a smoky flavor. We plan to pair this with our peppery Harvest Moon Red, a blend of Mouvedre, Syrah and Viognier. We will finish the evening with home-cooked pumpkin pie and a glass of our Doce Dessert Wine. Don't miss this gem of an event at one of Treasure Valley's best steakhouses.
Yoga For Wine Lovers
Presented by Yoga Outreach Classes
Thursday - December 12th, 2013 starting at 6:30 PM
Located at Bricolage - 418 S 6th St, Boise, ID 83702
With all the craziness of the holidays you need to find a way to deal with your stress. Why not take a little time to find some inner focus? Enjoy the expert instructions from the amazing Deb Murphy in a 45 minute yoga class. She will help you focus on your inner peace and your outer strengths. Afterwards treat yourself to a glass of wine. Why not? You deserve it. You just did 45 minutes of yoga! While sipping your wine you can peruse the unique and hand-crafted wares of Bricolage. This event is good for you as well as good fun!