Our family is proud to grow fresh fruit and create fine wines for you.
Events at Williamson's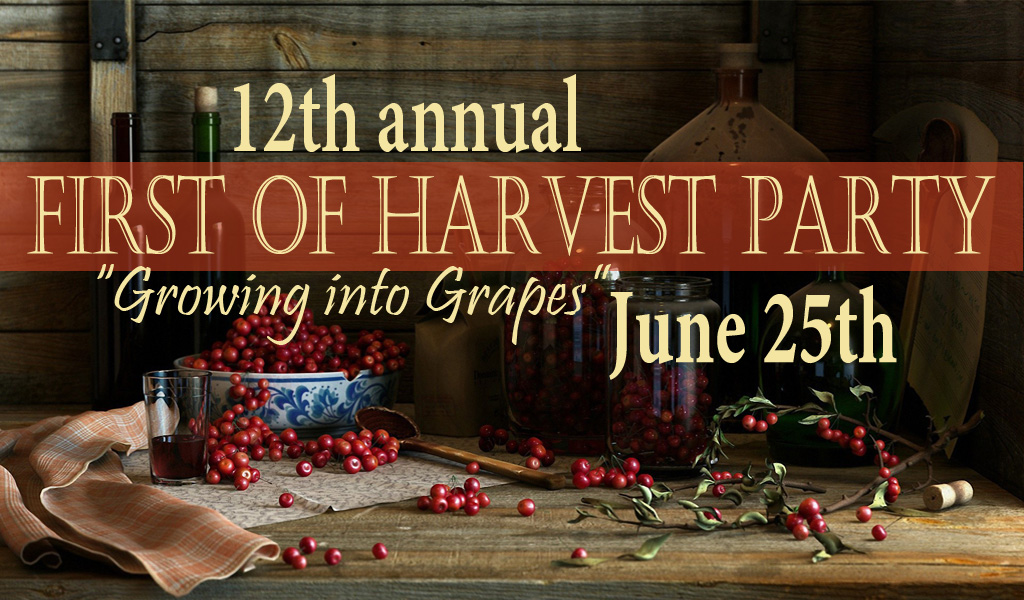 Eleventh Annual
First of Harvest Party
Saturday - June 27th, 2015

10 AM to 5 PM
We're celebrating the start of another wonderful harvest! Sample our fresh, juicy cherries. Join us for barrel tasting and new wine releases. Show us what you've got with our cork spitting contest - you could win some fabulous fruit and wine prizes. Don't miss out on our 30% off case sale! We will be hosting local musician, Wayne White and local food trucks so that you can enjoy some tasty treats while sipping your wine and enjoying the music. Best of all no admission fee!
Other Events
IDAHO WINE MONTH
The entire month of June!
In May of 2009 Governor Butch Otter declared June Idaho Wine Month to encourage local consumers to drink local!! Look to local restaurants, retail stores, and wine shops to offer specials during the month of June. Don't miss some of the great wine events and specials offered by wineries. But most importantly make sure you celebrate Idaho Wine Month by toasting to life with a delicious glass of Idaho wine!
Idaho Wine Month Tasting
Presented by Bodovino
Wednesday - June 3rd, 2015 from 5 - 7 PM
Located at Bodovino - 404 S. 8th Street, Boise 83702
Celebrate Idaho Wine Month by meeting two local wine makers, Williamson's and Hat Ranch, and sampling 4-6 of their finest. The tasting is free, bottles are 10% off and there will be many more Idaho wines on our tasting machines. See for yourself why wines from the Snake River Valley have recently been getting Regional and National acclaim.
First Thursday
Presented by Downtown Boise Association
Thursday - June 4th, 2015 from 5 - 9 PM
Located at Olivin Oil and Vinegar Taproom - 218 N 9th St, Boise, ID 83702
Calling all foodies! Join us for an evening of discovery. Join us at Olivin - Oil and Vinegar Taproom and learn about all the secrets about the world of oils and vinegars. This is a great opportunity to learn more about how oils and vinegars can really influence flavor in delicate dishes or improve your favorite recipe. You know what also improves a delicate dish or your favorite recipe...wine! Sip on some of Williamson's delicious wines while you learn about and sample Oliven's huge selection of oil and vinegars!
Nampa Art Walk
Presented by Nampa Art Collective
Friday - June 12th, 2015 from 5 - 9 PM
Located at Flying M Coffee House at 1314 2nd St S, Nampa, ID 83651
The Nampa Art Walk started as a grass roots effort to support the arts and support the downtown and its revitalization. The event is free to everyone. There is no cost to go to the venues and there is no cost to the artist to hang their art. The Nampa Art Collective wanted to contribute to building a stronger arts community and create an avenue for art to happen and be seen in downtown. There is a passport/map that guides you through the different participating venues, outdoor murals and Artist in Residency program. Visitors can go to participating venues and has the artist initial the passport. They can then enter it into the entry boxes at the venues for a chance to receive downtown gift certificates. So put on a pair of good walking shoes and bringing the family or a friend and get cultured in downtown Nampa but don't forget to visit Williamson Vineyards booth for a refreshing glass of wine!
Boise Farmer's Market
June 13, 2015
Located at 10th and Grove Street, Boise ID
The Boise Farmers Market is the farmers market for the 21st century. This market focuses on local food, cultivating new farmers, incubating new food ideas, and creating a community space to learn about food and sustainability. We will be pouring wine and talking with market goers about the Sunnyslope Wine Trail and all that it has to offer. For more information about the market http://theboisefarmersmarket.com/about-us/.
Savor Idaho
Sunday - June 14th, 2014 from 2 to 6PM
Held at the Idaho Botanical Gardens
Located at 2355 Old Penitentiary Rd, Boise, ID
Idaho's premier wine event will take place on the picturesque grounds of the Idaho Botanical Gardens. This is a unique opportunity for consumers to savor the best Idaho has to offer in food and wine. Over 900 guests will be greeted with a commemorative wine glass to have in hand as they taste and sip their way through Idaho's best.
Idaho Wine Documentary Premiere
Presented by Peppershock Media
7:15pm on Wednesday - June 17th, 2015
Regular admission: $10
5:30 - 7pm - VIP Reception and wine tasting:
VIP Tickets: $50 (includes admission to the movie premiere) Located at Northern Lights Cinema Grill - Karcher Mall, 1509 Caldwell Blvd #1111, Nampa, ID 83651
Join us for this local premiere of the documentary, Idaho Wine - From Bud to Taste Bud. This nationally acclaimed film was locally produced by Peppershock Media and features many members of the Idaho wine industry. The film debuted at the 2015 Sun Valley Film Festival and will be premiering at two local theatres this month for Idaho Wine Month. Williamson Vineyards will be pouring wine during the Nampa Premiere during the VIP Reception!
Independence Day Celebration
Friday - July 3rd, 2015 from 6 - 10 PM
Located at Marsing Island Park on the Snake River
Join the Independence day Celebration at the Annual Marsing Friday the 3rd of July. The fun begins at 6 pm at the Marsing Island Park on the Snake river. There will be a lot of fun for the kids, BBQ beef dinner by the Lions Club, and plenty of food trucks to match your food cravings. Williamson's will be down there pouring and toasting to this great nation! Music prior to the Fireworks sung by Jeannie Marie. Fireworks over the Snake River begin at 10pm. Dancing and Music for all ages by DJ Flow until Midnight.
First Thursday
Presented by Downtown Boise Association
Thursday - July 2nd, 2015 from 5 - 9 PM
Located at Boise Art Glass - 1124 W. Front St., Boise, ID
Boise Art Glass offers a 30 minute glass blowing session, one-on-one with instructor, during every First Thursday. Each month they offer something different to make whether it be a cup, paperweight, ornament, etc. Sessions run from 5pm -9pm or later. You must call or stop in to reserve your 30 minute time slot. Sessions are $40. Williamson Vineyards will be pouring wine while you wait for your session to start or sip on a glass and just watch this hand-crafted glass be created!
Paradies Shop Wine Tasting
Friday - July 7th, 2015 from 11:30 AM to 3 PM
Located in the Paradies Shops in the Boise Airport
We are very excited to get our wine into the Paradies Shops in the Boise Airport. Now you can grab a bottle to take to your friends and family and not have to hassle with getting the wine through security because it's already in the airport! If you happen to be flying in or out of Boise on the 24th please come by the Paradies Shops and see us to try a little wine.