Our family is proud to grow fresh fruit and create fine wines for you.
Events at Williamson's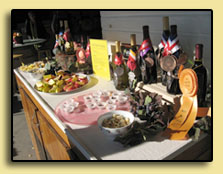 Fall Barrel Tasting Weekend
Friday & Saturday - November 28 & 29th, 2014 from 10 AM to 4 PM Sunday - November 30th, 2014 from 12 to 5pm
Take a scenic drive into Idaho wine country and join us for Williamson Orchards & Vineyards Fall Barrel Tasting!
Why battle the crowded stores this weekend? Come out to beautiful wine country and treat yourself to some festive wine tasting. Try our 14 delicious wines including the gold medal winning Harvest Moon Red! Spend the day enjoying BARREL TASTING - CAROLERING BY Encore Theater Co. - FRIE ROASTED PIZZA BY K.Bravos - FRESH & LOCAL PRODUCE FOR SALE - STAY WARM BY THE FIRE PIT! You can still grab some great deals at our 30% OFF CASE SALE.
Other Events
Idaho Wine Run
Sunday - September 28th, 2014 from 8 AM to NOON
Held at the Ste. Chapelle Winery
Located at 19348 Lowell Rd, Caldwell, ID
Marathon, Half, 10k, 5k, Kids Fun Run
Wine sampling from over a dozen Idaho wineries, including Williamson's, after the races, featuring live music from Alturus while you enjoy Idaho's finest wine. You must be 21 or over to taste wine.
First Thursday
Presented by Downtown Boise Association
Thursday - October 2nd, 2014 from 5 - 9 PM
Located at The Chocolate Bar - 805 W. Bannock St, Boise, ID
Wine and chocolate is the perfect paring! We will be serving 4 delicious wines paired with some of the most amazing chocolate you have ever encountered! So come join us for a glass of wine a little bit of chocolate heaven!
Paradies Shop Wine Tasting
Friday - October 24th, 2014 from 11:30 AM to 3 PM
Located in the Paradies Shops in the Boise Airport
We are very excited to get our wine into the Paradies Shops in the Boise Airport. Now you can grab a bottle to take to your friends and family and not have to hassle with getting the wine through security because itís already in the airport! If you happen to be flying in or out of town on the 24th please come by the Paradies Shops and see us to try a little wine.
First Thursday
Presented by Downtown Boise Association
Thursday - November 6th, 2014 from 5 - 9 PM
Located at Oliven - Oil & Vinegar Taproom - 218 N. 9th Street, Boise, ID
Sippin in the City
Thursday - November 6th, 2014 from 5 PM to 9 PM
Held at the Linen Building
Located at 1402 W Grove St, Boise, ID
Tickets are $35 and include a glass. Advance ticket purchases are available at sippininthecity.com
Break out from the everyday tasting, step away from the table and prepare yourself for a different type of tasting. Sip your way through Idaho's best while tasting sweet and savory bites in the city. Featuring all Idaho winemakers, tasty treats from Idaho's coolest culinary artists and original local music.
Clips, Sips & Bids - Part Deux
Hosted By Rhean Allen, Peppershock Media
Saturday , November 8th, 2014
held at The Egyptian Theater located at
VIP Event Passes Ė $50 begins at 5pm
Regular Admission Event Pass $25 begins at 6pm
Clips, Sips & Bids Part Deux is an event in support of the Idaho Wine, From Bud to Tastebud Documentary. Attendees will get to: view an in-progress version of the film, purchase wine from 7 different Idaho Wineries (proceeds will be contributed to the film), bid on select and speciality wine items and enjoy some local Idaho Food. The VIP experience includes: a complimentary glass of Idaho wine of their choice from the Idaho wine makers present, hors d'oeuvres, wine tasting and admittance into after party following the event at Chandlers Steak house (no-host).
First Thursday
Presented by Downtown Boise Association
Thursday - December 4th, 2014 from 5 - 9 PM
Located at The Chocolate Bar - 805 W. Bannock St, Boise, ID
First Thursday
Presented by Downtown Boise Association
Thursday - December 4th, 2014 from 5 - 9 PM
Located at The Lisk Gallery - 403 South 8th Street Boise, ID