Our family is proud to grow fresh fruit and create fine wines for you.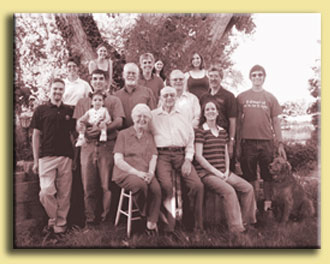 Welcome to Williamson
Orchards & Vineyards
Williamson Orchards and Vineyards is a family owned and operated business which aims to produce the highest quality product and provide honest and knowledgeable service to our clients. We feel it is important to practice good business while serving as stewards of the land. We strive to use natural and organic growing methods whenever possible.
In the early 1900s the Williamson's planted our first trees. As the family grew, so did the business. Four generations of Willimasons have worked the farm. Today, Williamson Orchards and Vineyards is operated by the brothers Roger and John Williamson and their families.
The original homestead of 80 acres expanded up to 700 acres at for many years and is currently 400 acres of fruit and row crop. From the first planting of apples and cherries in 1910 we have added a wide variety of soft fruits and apples. In 1999 we planted our first grape vineyards for a contract with a local winery. Since that time we have taken the next step and now produce our own wine. In 2011, in preparation for the retirement of the third generation, we sold a parcel of land with the plans of focusing our growing efforts. So what's next? No farmer knows what the future will bring but our goal is to continue our way of life as a family run business.